On Wednesday, January 9th, at 6pm, the NLG-Massachusetts Chapter hosted a Happy Hour event at the Red Hat Café, featuring a pertinent presentation entitled "What's Going On At The Southern Border." About thirty folks attended to discuss the current struggles of immigrants who have fled their countries of origin, where living conditions have become intolerable (often due to exploitative and violent U.S. foreign policies), only to be detained, abused, and/or rejected at U.S. borders. Our speakers – NLG members and immigration Attorneys Ilana Greenstein and Hillary Farber, along with Evan Seitz and Attorney Josh Behren from Boston Immigration Justice Accompaniment Network (BIJAN) – shared their personal stories about how they've been able to support these immigrants, and about how others – both legal professionals and not – can get involved in the fight for immigrant justice.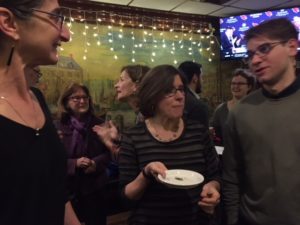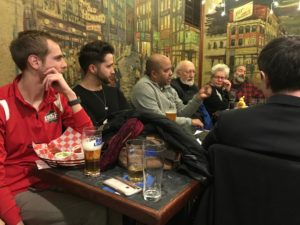 Attorney Hillary Farber specializes in criminal justice and is a law professor at UMass Dartmouth School of Law. Although her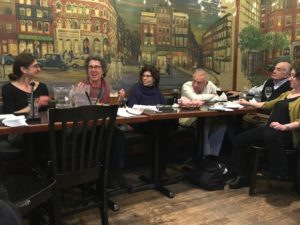 background is in public defense, she began practicing immigration law in March 2018 by volunteering at the Southern Poverty Law Center (SPLC), with their Southeast Immigrant Freedom Initiative (SIFI). There, Farber was primarily transferring legal cases over to a new case management system. These digital databases are incredibly important, as legal workers within immigration programs often come-and-go and the cases get handed off frequently. After her time with SPLC-SIFI, Farber has been inspired to soon move to Tucson, AZ to work with the Florence Immigration and Refugee Rights Project, an organization that provides free legal and social services to detained immigrants and their families under threat of deportation. "I am very excited to be an activist lawyer and to learn the intersection of immigration and criminal laws," Farber said in regards to her cross country move. Upon her return, Farber hopes to play a bigger role in supporting the immigrant cause locally – "especially as Bristol County Jail[, currently serving as a Greater Boston ICE detention center,] is near UMass."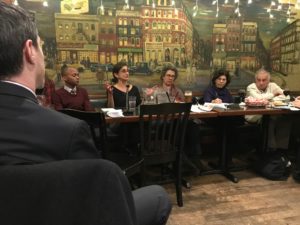 Attorney Ilana Greenstein is an immigration attorney who has primarily worked with detained immigrants and asylum seekers. "The number of immigrants in detention has exponentially gone up over the past four years…and these private jails have been mushrooming as detention centers. So many county jails have started warehousing women and children," she said. In strong opposition to such inhumane and unjust practices, many immigrant advocacy programs across the country call for attorneys, as well as for all other non-legal professionals, to support immigrants. "[These programs] need attorneys – any attorneys at all, because they'll also train non-immigration attorneys on how to help immigrants. They desperately need interpreters for any languages at all. They need medical doctors and psychiatric doctors, and all other healthcare providers for support – doctors can do evaluations in person, or even on Skype. There's lots of on-the-ground opportunities; you don't need to be a law student or have a law degree."
A few other non-immigration attorneys in attendance also shared their experiences with immigrant advocacy programs: like Farber, none of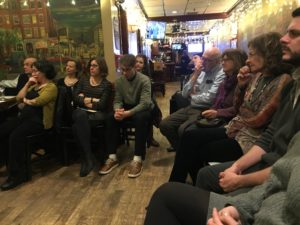 them had prior practice in immigration law, but were trained thoroughly by their respective programs. Programs trained the attorneys in a wide variety of skills, from how to manage computer databases, to how to listen to immigrants' stories, to how to train immigrant women for credible fear/reasonable fear interviews. A number of these attorneys at our Happy Hour received their trainings through their volunteer work with the Dilley Pro Bono Project, a Dilley, TX-based project of the Immigration Justice Campaign that provides pro bono services to asylum-seeking mothers and children detained at the South Texas Family Residential Center (the largest immigrant family detention center in the US).
Along with Farber and Greenstein, Evan Seitz and Attorney Josh Behren from BIJAN Boston also addressed our gathering regarding how local non-legal groups like BIJAN support the nationwide immigrant justice campaign. Seitz described how BIJAN's beginnings were wholly non-legal: it started with local organizers and youth clergy listening to their neighbors (BIJAN uses "neighbors" instead of "immigrants" to lessen their dehumanization) being detained at South Bay Correctional talk about their struggles, and accompanying neighbors to court. Since then, BIJAN's capacity has greatly expanded: attorneys affiliated with BIJAN – like Behren – fight for universal representation; BIJAN's community has raised – and continues to raise – thousands of dollars to pay off detained neighbors' bonds; the community has also offered many released neighbors' temporary housing as they get back on their feet; and BIJAN also provides neighbors resources and referrals for them to circulate amongst other neighbors threatened with deportation. Seitz and Behren also emphasized that folks do not need to be legal professionals in order to work with BIJAN: BIJAN is constantly looking for interpreters, donors, and volunteers for court accompaniment, in addition to attorneys.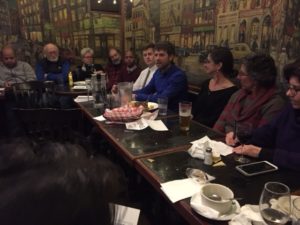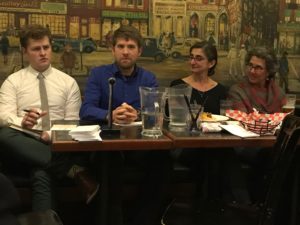 Along with the aforementioned immigrant advocacy programs and the unsung hundreds of other nationwide programs, our very own NLG – National has its own initiative to assist the migrant caravan at the Southern border.
Although the struggles of immigrants are dire given the current political climate riddled with unjust and malignant immigration policies, good folks across the country and here in Greater Boston fight relentlessly to support our neighbors and our communities. Our January Happy Hour demonstrated great hope that we will, in fact, achieve justice. We, the NLG-Mass Chapter, urge you to consider supporting this ongoing fight in whatever capacity you are able.There are ample opportunities to get involved and provide on-the-ground support – even if you are not a law professional. For more information on how to plug into the cause, please visit any of the linked organizations' websites highlighted throughout this blog post (also, see below) – and educate your own communities by sharing this with your friends!
– Kayla Degala-Paraíso –
---
Here are some of the many volunteer options available to immigration attorneys, non-immigration attorneys, and others: