The Street Law Clinic Project will resume activities in November 2019. If you have questions, please call us at: 617-227-7335.
The Street Law Clinic Project (SLC) conducts clinics to educate people about their legal rights and methods to fight for justice. Under the supervision of NLG-Mass Chapter attorneys, law students conduct these clinics in community organizations, schools, shelters, and places of worship.
Direct Action
This clinic provides support to groups and individuals who plan to take direct action that may bring them into confrontation with law enforcement, risk of arrest, and/or civil disobedience. The clinic provides information about arrests and court procedures relevant to protests and demonstrations in Massachusetts. We bring legal expertise and experience to these trainings. Activists, who know best how to resist and win, use this knowledge to make informed decisions about their participation in political actions and their responses to police tactics.
Legal Observer Training
Working under the supervision of an NLG-Mass Chapter attorney, Legal Observers (LOs) are an integral part of any legal team representing activists. Any legal professional or political activist can participate in the LO training and then serve as a Legal Observer. Legal Observers serve two related but distinct functions. First, their presence at protests and other political actions serves as a deterrent for police misconduct. Second, LOs monitor and record instances of police misconduct.
Stop & Search
Primarily for youth of color and particularly Black people, this clinic is about people's constitutional rights with regard to the police. Participants discuss ways to resist and protect themselves when police target them and their communities. Further, the clinic shares information about what people can do when they are the victims of police misconduct and systemic racism.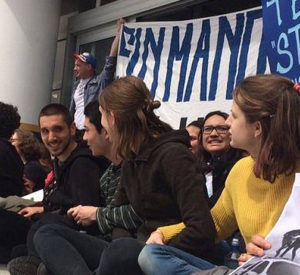 Immigration Law
This clinic provides basic information on the rights that immigrants and refugees have, how to respond to harassment from immigration authorities, and the recent changes in immigration laws and procedures. It includes information concerning legal representation, visas, citizenship, travel, criminal convictions and their immigration consequences, as well as detention and deportation. The focus of any particular clinic reflects the issues that are most important to those attending.
Housing Law
We provide tenants with tools they need in their struggle for decent homes and shelter, including what to do when faced with an eviction notice and how to document unsafe living conditions. We share information on laws against discrimination, what a landlord is obligated to provide regarding security deposits, and what constitutes a sanitary and safe home.
While this clinic focuses on tenants, part of the clinic can also help homeowners who are facing foreclosure in response to the unscrupulous financial maneuverings of banks that have disproportionately affected Black and Brown homeowners. We provide information on how homeowners facing foreclosure and/or eviction can fight their cases in court against their bank landlords.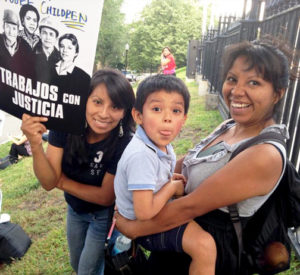 Workers' Rights
Workers outside of a unionized workplace often have no place to turn for information about their rights. Immigrant workers face discrimination and harassment, whether unionized or not, and often fear losing their job or negative immigration consequences if they speak up.
This clinic educates workers and job seekers about their rights to a safe workplace, proper pay, freedom from discrimination, unemployment benefits, workers compensation benefits, rights to family and medical leave, and the right to organize. Depending on the specific needs of the participants, the clinic can focus on any of the following: wage and hour laws, discrimination in the workplace, workers' compensation and OSHA, and/or union organizing.
Consumer Protection/Bankruptcy Law
Increasing income inequality, predatory lending, skyrocketing medical costs, and massive student debt have further impoverished our society, with a growing number of people who face serious legal consequences because of credit issues and consumer debt. This clinic helps people learn about their rights with regard to debt collectors, increasing their access to credit, and dealing with the process of bankruptcy.
Interested in Hosting a Street Law Clinic?
If your organization is interested in hosting a Street Law Clinic or Legal Observer Training, please fill out an application form. We will ask you to provide a venue, guarantee at least five participants, and advertise to your organization's constituents, members, and/or anyone in the community who might be interested. We have fliers you may use for outreach.
If you have any questions, email us at nlgmass-SLC@igc.org or nlgmass-director@igc.org.