The Mass Defense Committee (MDC) is a network of lawyers, legal workers, and law students providing legal support to political activists, protesters, and their movements for economic, social, and racial justice. We use our legal expertise in service to the struggle. The individuals and organizations we defend guide and determine our representation.
The MDC can provide support at a number of critical stages:
Through our Street Law Clinic project (SLC), members of the MDC conduct Direct Action training for activists. We discuss the legal aspects of events activists organize, as well as basic criminal procedures so activists learn what to expect if they are arrested. We also train activists to serve as Legal Observers at protests and rallies to monitor police conduct.
For protests and actions that the NLG-Mass Chapter supports, we provide Legal Observers to monitor police behavior. The Mass Defense Committee staffs a hotline (617-431-6626) in case people are arrested or otherwise need legal support. We also have members available to assist individuals who are taken into custody.
Even though we cannot guarantee this (our network is made up entirely of volunteers), the MDC tries to ensure that anyone arrested for involvement in movements the NLG-Mass Chapter supports has legal representation from arraignment through the completion of their case.
Here are several examples of our work
City Life/Vida Urbana
Since the 1970s, City Life/Vida Urbana (CL/VU) has been organizing tenants and low-income homeowners in their struggles to maintain affordable housing. As a last-ditch effort to halt an eviction and prevent a family from becoming homeless, CL/VU organizes people willing to risk arrest to physically block the constables and movers from evicting families. The MDC has supported these efforts by providing Legal Observers to monitor the blockade and document any arrests. In many cases, the blockades have been successful in halting the eviction, sometimes permanently. These blockades have created opportunities for broader public discussion about the crisis of affordable housing and rapacious foreclosures. They have also played a pivotal role in forcing banks to negotiate with tenants living in foreclosed homes.
In case of arrests, NLG-Mass Chapter attorneys appear in court to represent, pro bono, all of the people arrested during eviction blockades. Taking an aggressive political stance in their representation of these community activists, the NLG-Mass Chapter has been successful in resolving every one of these cases by having them dismissed or having charges converted to civil infractions.
If Not Now
We have supported actions of the Boston chapter of If Not Now, a national organization challenging the American Jewish community to end its support for the occupation, thus supporting freedom and dignity for both Israelis and Palestinians. In addition to conducting legal trainings, we provided Legal Observers and were on hand for an arrest that took place during If Not Now's "Liberation Seder" held outside the Boston offices of American Israeli Public Affairs Committee (AIPAC).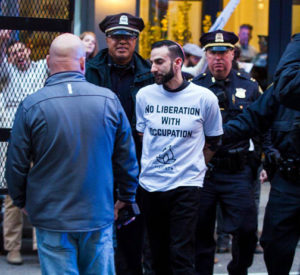 Immigrant Solidarity Actions
We collaborate with immigrant justice organizers in a variety of arenas. The MDC has conducted trainings for immigrants and allies on Immigration Law, Direct Action, and Stop & Search, and on community preparedness to resist U.S. Immigration and Customs Enforcement (ICE) raids. NLG-Mass Chapter members participated in protests at Boston's Logan airport when travel bans were issued and have supported immigrant-led resistance actions, including two blockades at the Suffolk County House of Corrections (a county jail that imprisons non-citizens through a contract with ICE) during which activists were arrested.
View the Immigrant Solidarity Action Video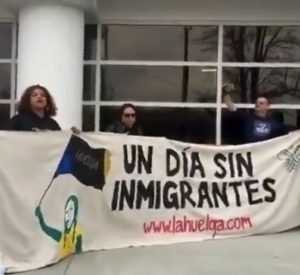 Occupy Boston
The Occupy movement began September 17, 2011, at Zuccotti Park in New York City to protest social and economic inequality. It popularized the concept of the 1%, now part of mainstream discourse. Occupy quickly spread to over 900 cities in 82 countries.
Occupy Boston (OB) set up camp in Dewey Square in mid-October 2011. Shortly after that, NLG-Mass Chapter members formed the OB Legal Working Group housed in a tent on the site. Later that month, the Boston police arrested over 140 people after protesters refused to remove tents located outside the boundary of the original small encampment. Not long after those arrests, 22 Occupy Worcester protesters were arrested for trespassing in Worcester Common.
During OB, the NLG-Mass Chapter set up a 24-hour hotline that fielded legal questions from OB participants. NLG-Mass Chapter attorneys provided representation at every arraignment of demonstrators arrested in both Boston and Worcester. While most activists took the deal the prosecutor offered, a group of 20 activists rejected it and went to trial with MDC attorneys representing them.
In addition, NLG-Mass Chapter members conducted scores of educational workshops on-site at OB about people's legal rights and trained hundreds of activists to be Legal Observers. NLG-Mass Chapter members also provided legal assistance and support in meetings between OB activists and city officials, the Boston Police Department, and the Greenway Conservancy, which managed the site of the OB encampment.
In November 2011, NLG-Mass Chapter attorney Howard Cooper, heading a team of NLG-Mass Chapter attorneys, drafted a complaint for injunctive and declaratory relief to protect the First Amendment rights of OB participants and to forestall any future mass arrests. In non-legal terms, the lawsuit was filed to stop the City of Boston from closing the OB encampment and from arresting OB participants. The court ruled against the motion and gave the City the okay to evict the protestors and arrest those who refuse to leave. Which the City did at the beginning of December.
Resisting the Pipeline
A Victory! On March 27, 2018, thirteen defendants appeared in Boston's West Roxbury District Court to answer charges that they blocked construction on the West Roxbury Lateral Pipeline, a high-pressure natural gas pipeline. They were part of a sustained campaign of civil disobedience that resulted in 198 arrests between October 2015 and September 2016. Although the prosecutor reduced the charges from misdemeanor criminal offenses to civil infractions, Judge Mary Ann Driscoll allowed each defendant to testify on the necessity of their actions.
Following the testimonies, the judge ruled that the defendants were not responsible for any civil infractions because their actions were necessary in order to prevent a greater harm. This was the first time, to our knowledge, that defendants were acquitted based on the civil disobedience defense of necessity/competing harms to prevent climate change.
Since 2015, the NLG-Mass Chapter's Mass Defense Committee (MDC) has been working with the Climate Disobedience Center to support the Resist the Pipeline coalition. The MDC facilitated legal briefings for hundreds of activists and represented over 200 people in court after their resistance actions.
After this victory, CommonWealth magazine noted:
[i]n the course of a drawn-out discovery battle, the defendants' pro-bono National Lawyers Guild attorneys forced pipeline company Spectra Energy (now Enbridge) to admit in an affidavit that it had no safety plan for the neighborhood in case of a catastrophe—even though this pipeline terminates in a residential neighborhood across the street from an active quarry where ground-shaking blasts are a regular occurrence."
(Italics ours.)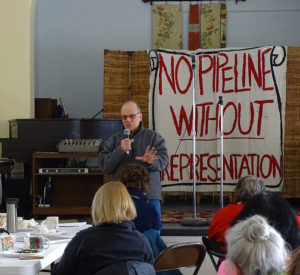 White Supremacy Not Welcome in Boston
On August 19, 2017, over 40,000 people turned out in Boston to denounce fascists and Nazis and to affirm that Black Lives Matter. Black women organized and led this march and rally.
The MDC provided support before, during, and after the day of action.
Leading up to the march, we conducted four Direct Action Trainings for activists. We also used social media to promote the NLG-Mass Chapter Legal Hotline. Thousands of people were more secure with that hotline number written on their forearms.
On the day of the rally, almost 30 green-hatted Legal Observers scanned the crowds, followed the march, and kept eyes on the Nazis, the riot cops, and their armored vehicles. Working with the Massachusetts Bail Fund, the NLG-Mass Chapter made sure every protester who was arrested was bailed out that night, and that the 33 people who were arrested and faced charges had representation from arraignment until their cases were resolved.
If you are fighting for freedom and liberation, for Black lives, and against racism – you can count on us! We will have your back.