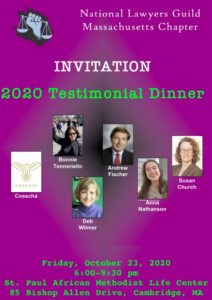 Make Your Arrangements for The NLG-Mass Chapter Annual Dinner!
Make Your Ticket Reservation: Click Here!
Arrange Your Program Greeting: Click Here!
Become a Dinner Sponsor: Click Here!
The Massachusetts Chapter of the National Lawyers Guild fights for radical justice in the courts and in the streets. In these dangerous times, we will continue to stand up, stand together, and fight back.
NEWS FROM NLG-MASS CHAPTER