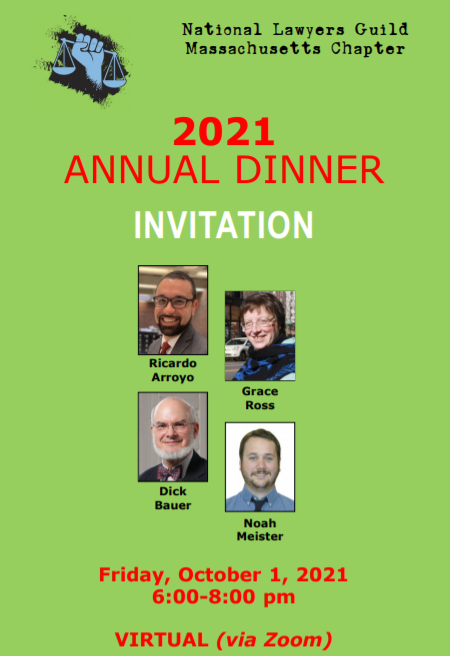 NLG-Mass Testimonial Dinner 2021
On Friday, October 1st 2021, the NLG-Mass Chapter will proudly celebrate the hard work, achievements and dedication to the pursuit of justice of our honorees: Ricardo Arroyo, Grace Ross, Dick Bauer and Noah Meister. We hope you can join us. The event will be held online.
Support NLG-Mass Chapter During The Pandemic
In this time of crisis and despite the quarantine, your NLG-Mass Chapter continues to provide unique legal and political support in this time of crisis to the underserved populations that are most affected by the pandemic. Our Mass Defense Committee, Legal Observers and Litigation Committee continue to fight for the rights of the people, but need your help to continue this crucial work. Click here to learn more and consider making a donation to support the Chapter.
The Massachusetts Chapter of the National Lawyers Guild fights for radical justice in the courts and in the streets. In these dangerous times, we will continue to stand up, stand together, and fight back.
NEWS FROM NLG-MASS CHAPTER