NLG-Mass Abortion Justice Task Force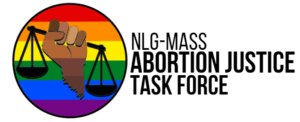 NLG-Mass Abortion Justice Task Force is revamping NLG-Mass' former Reproductive Rights Clinic in light of the Dobbs decision and the numerous legal concerns that have resulted. The goal of the Task Force is to uncover the most pressing legal concerns and to address those concerns through a legal clinic/training offered to groups and individuals across the state. The training will continually evolve to keep up with the changing legal climate around abortion; a comprehensive resource list will be provided to all those in need.
The Abortion Justice Task Force is just beginning to develop the training materials and would love additional NLG-Mass members to contribute to the development. Additionally, the Task Force will need NLG members to promote and deliver the trainings.
If you are interested in getting involved, please contact: Sara Malley @ sara.e.malley@nesl.edu.