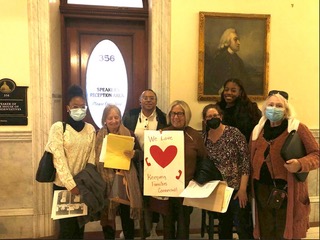 For too long, families and friends of people in prison and jail have been charged excessively high rates to talk on the phone. People spend $14 million a year to talk with their loved ones who are incarcerated, which is far more than anyone else in Massachusetts pays for phone calls. Worse yet, the real cost of phone service is about $3-4 million – the rest is fees, inflated prices, and kickbacks to jails and prisons. Sheriffs say they need this money to pay for programs for people in their custody, but have yet to provide evidence of that. What this all boils down to is families and friends paying for programs that the government should be paying for.
Because of systemic racism and class bias in policing and the criminal legal system, poor families and especially poor Black and Brown families are most likely to be driven into debt or forced to choose between staying in touch and paying bills on time because of the high cost of calls. Members of affected families have been organizing with allies to end this exploitation for a number of years.
As the 2023-24 legislative session gets underway, the Keeping Families Connected / No Cost Calls coalition is continuing the campaign to make phone calls free for people in prison and jail and the people they call. The National Lawyers Guild of Massachusetts (NLG-MA) is one of about 80 organizational members of the coalition and we have many opportunities to work together.
The coalition is partnering again with our bill sponsors Rep. Chynah Tyler and Senator Cindy Creem, who have introduced HD.822 and SD.1441 (these temporary "docket" numbers will be replaced with bill numbers soon). Guided by the priorities of directly affected coalition members (incarcerated and formerly incarcerated people, their families, and their loved ones) and the African American Coalition Committee at MCI-Norfolk, we added something new to the bill this time – in prisons and jails where people have access to tablets that can be used for phone calls, the prison and jail administrators must allow people to make calls on their tablets. This is happening in Connecticut and has been working well.
The bill permits people to make calls for free whenever phones are available (that is, except for count times, overnight, when someone is scheduled for work or programs, and so on). The bill also says that if prisons and jails provide other communication services, such as electronic mail or video visits, these will be free as well. We are campaigning hard for flexibility and against any effort to cap the number of minutes.
Last session, the Legislature put free phone calls in the state's budget, but then-Governor Baker derailed the policy on his way out the door. We are excited to build on what we accomplished last year, especially with NLG members' help.
There are two ways to win free calls. One is by getting a bill passed and the other is by getting free calls written into the annual budget, as happened last session. The budget process is just getting underway now and we will be advocating for free calls in the budget. We are also getting ready for hearings on the bill, which can be announced at any moment.
Opportunities to get involved:
1) On Wednesday March 29 at 7:00 PM, we are hosting a zoom event for directly affected people to get together, write to their representative and senator to cosponsor the bills, and prepare testimony. We encourage people inside to arrange for a friend or family member to RSVP for the event; you can call them up on the 29th and have them put you on speaker so you can participate. If that timing doesn't work, please share this information with your loved ones and encourage them to sign up anyway so we can send them updates. We want to make it as easy as possible for people who are in jail and prison and their loved ones to get involved.
RSVP at https://bit.ly/ncctestmarch or email us at nocostcallsma@gmail.com
Please fill out the RSVP form or email us if you would like us to send you a testimony writing toolkit or be notified about giving oral testimony when a hearing is scheduled.
You can also email your testimony to nocostcallsma@gmail.com and we will submit it for you.
2) We ask everyone to please contact your rep and senator to ask them to cosponsor the bill or thank them if they already have. You can contact both the rep and senator for the prison where you are incarcerated and the rep and senator in your home community; for those in the community, you can contact the rep and senator for the area where your loved one is serving their sentence as well as your own. Use https://malegislature.gov/Search/FindMyLegislator to look up your rep and senator. The more cosponsors we have, the more visible support inside the State House is to everyone, and the stronger our position.
3) If you would like to join a coalition working group or be notified of upcoming action alerts, please write to us at nocostcallsma@gmail.com and ask to be put on our mailing list.
4) Let us know if you would like someone to speak at a chapter event.
We are excited to work with NLG members to make this important policy a reality.
For more information and an Action toolkit, please check out our website, nocostcallsma.org