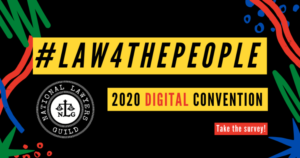 NLG's 2020 #Law4thePeople convention was originally scheduled to take place in Detroit this year but due to the ongoing health crisis, it will be making the transition online!
However, to make this event as successful as possible, we need your input! So, please visit the link below and complete the survey before next Wednesday, April 22, 2020.
https://docs.google.com/forms/d/e/1FAIpQLSdLo1wvpVQAt5u_uhs7BATyGTyc9PDOJl0nQzr7_0MGzVqiag/viewform
We look forward to creating an online gathering with a particular emphasis on disability justice and access for all, and believe that moving to a virtual convention will create new opportunities for our members to have their voice heard and help shape the Guild's work.
Will you join us in this effort?