The following is an update on the Chemical Weapons Ordinance by Ben Ewen-Campen, Ward 3 City Councilor as posted to his Facebook page.
Tear Gas Ban PASSED out of committee! Fina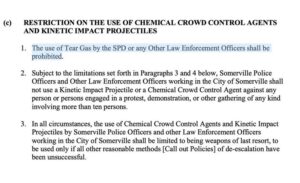 l vote next Thursday. This Ordinance will ban tear gas outright, strictly regulate chemical & kinetic crowd control weapons (i.e. rubber bullets), and establish clear guidelines for pepper spray.
Enormous thank you to Chair Lance Davis & colleagues for their hard work, and to everyone who has pushed this in Somerville and across Massachusetts, including National Lawyers Guild-Massachusetts Chapter, Boston Democratic Socialists of America Health Care, Cambridge Councilor Jivan Sobrinho-Wheeler, Rep. Liz Miranda, State Rep. Mike Connolly, Boston Councilors Ricardo Arroyo & Andrea J. Campbell
This is what we've been working on. We need your help in supporting this ordinance. Please call your rep. in Somerville.