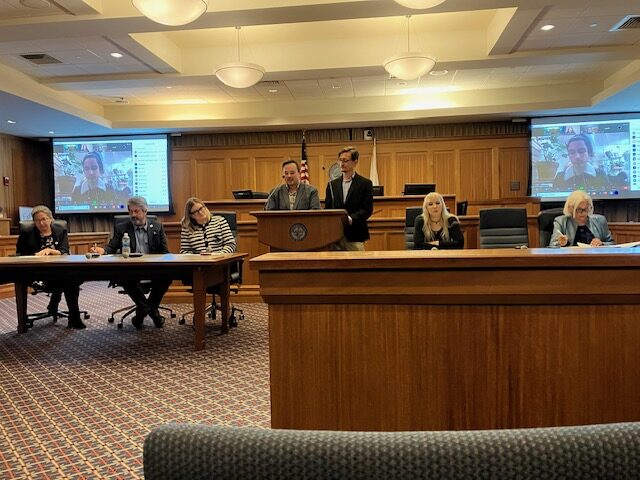 On October 14th, the Suffolk Law chapter of the National Lawyers Guild, in collaboration with the American Constitution Society, hosted a panel event on the Student Debt crisis.
The intention was to discuss the roots of the higher education and student debt crisis from a policy and legal perspective. Congresswoman Ayanna Pressley (MA-07) gave opening remarks. The panel attendees were: Representative Natalie Higgins (4th Worcester District); Max Page (President, Massachusetts Teachers Association); Eileen Connor (Director, Project on Predatory Student Lending); Alyssa (for-profit college borrower); Gabriela Toro (ADA Specialist & Zero Debt Massachusetts advocate); and Professor Renee Landers (Constitutional Law professor, SULS).
When Congresswoman Pressley started the event, she stated that:
"The student debt crisis is an economic justice issue, a racial justice issue, and a gender justice issue…We have shared our stories, mobilized, and advocated…It is the strength of our stories and movement that compelled President Biden to take historic steps to cancel student debt…We are not abandoning the fight for broad based student debt cancellation because inaction is not an option and change can't wait. I'm not letting up."
To start off the panel conversation, we asked our panelists what the root of higher education affordability issues are and what the effect is on students and workers. Here, Representative Higgins and Max Page described attempts in the Massachusetts Legislature to address the issue which would make public college debt free, including the Debt-Free Future Act and the Cherish Act.
Gabriela Toro helped to humanize the issue of affordability, describing her story being trapped in the "transcript trap." UMass Boston withheld her transcript after she discovered an unpaid balance she was not aware of.
We then transitioned to the issues of for-profit colleges and the ways that they take advantage of a crisis of affordability in higher education to prey on vulnerable students, trapping them with hundreds of thousands of dollars in student debt. Eileen Connor described PPSL's existing litigation in this area. Alyssa described her personal experiences as a borrower. She described being lobbied, every day, by a for-profit college recruiter who called her every single day, encouraging her to take out high-interest loans to attend.
Afterwards, we transitioned to the issue of the student debt crisis itself, from a legal perspective. Professor Renee Landers started off with a conversation about the Biden v. Nebraska court decision. She criticized the court's rejection of Biden's initial student debt plan and, further, criticized the court's interpretation of standing and of the Major Questions Doctrine, which have been weaponized. She described possible challenges the Biden Administration might face, under this same right-wing court, in enacting a new student debt plan through the authority outlined under the Higher Education Act.
Finally, we ended the panel with a conversation on how to resolve the student debt crisis and whether panelists believed we would see debt relief in our lifetimes. Panelists emphasized the need to organize, both for legislation that makes public higher education more accessible, but also for student debt cancellation.