by Noah Meister
The COVID-19 crisis has created a Catch-22 for activists and organizers: the more dangerous the virus makes in-person actions, the more necessary they become. As a result of the pandemic, one of the first big concerns I noticed amongst activists in Massachusetts was a concern for people imprisoned or detained by the police, and the lack of safe and sanitary conditions within government detention facilities.
One of these actions was at Mass Correctional Institute – Framingham. As of mid-May, MCI –
Framingham had a 42% COVID-19 infection rate amongst its entirely female population. Organizers, such as those at Families for Justice as Healing, have banned together to consistently put pressure on the prison staff and make sure they and those they are imprisoning know they are seen and remembered. The action I observed here was entirely peaceful, with participants circling around the complex in their vehicles, honking horns.
Another car-based protest took place outside the notorious Bristol County House of Corrections where, in addition to the run-of-the-mill prison abuse, Sheriff Thomas Hodgson oversees the unjust detention of I.C.E. detainees. On May 1, 2020, immigrants were gassed with pepper spray inside the facility, leading to three hospitalizations. One of the detainees involved reported that the confrontation started when Hodgson assaulted him. In a campaign to raise awareness about the abuse and to petition for these people's freedom, organizers put together another car-based action, slowing traffic in front of the facility and making noise to let Bristol County House of Corrections know that the world is watching. An online campaign has also started, requesting elected officials in Massachusetts visit the prison and investigate the conditions inside.
While car-based protests certainly have their drawbacks, they do give activists certain advantages. These events become more accessible, with people of all ages and families being able to come out. I also heard organizers mentioning that they felt less worried about police interactions with these kinds of actions.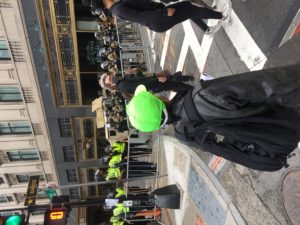 Nothing could have driven this later point home harder for me than the protests that began in Minnesota following the murder of George Floyd. On May 29, I legal observed an action organized by Mass Action Against Police Brutality. It was a testament to the deep-rooted need for this kind of direct action that people showed up in massive numbers in the midst of the current health crisis. My experiences observing that night highlighted the need for this action. Police I saw that night were unsympathetic and antagonistic, compromised the health and safety of citizens.
The most heartening feature of all of these actions is the way people are coming together. I saw protestors fixing a stranger's car, cleaning pepper spray from young people's eyes and comforting hurt, traumatized people who need to be heard.
As the fight for freedom and equality continues, please continue to support activists who put themselves at risk to speak truth to power.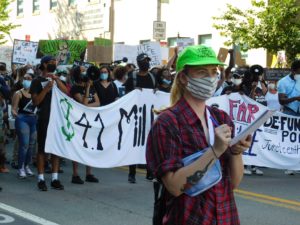 Photo by: Roberto Patterson