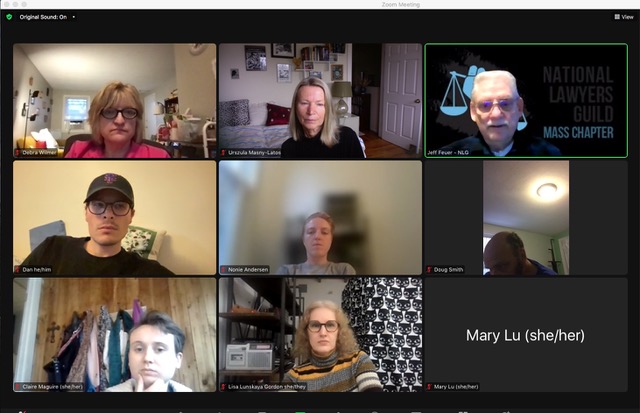 Our Mass Defense Committee had an exciting and full year supporting social movements for racial, economic, reproductive and climate justice. We held trainings, represented numerous activists in courts across the state, and partnered with a number of fantastic grassroots groups pushing forward meaningful change.
With the ongoing national attacks on reproductive freedom, the MDC stepped into a historic role (that we hoped wouldn't ever be needed again) supporting reproductive health advocates with Know Your Rights/Legal Self Defense trainings, and providing Legal Observers for public demonstrations. We also held similar trainings for many other groups engaged in resistance work: Palestinian solidarity organizers, national climate justice campaigns like Extinction Rebellion, local groups challenging fossil fuels infrastructure in their towns, and student organizations pushing for fossil fuel divestment. We also did trainings with Cambridge HEART, a newer organization working to build community-based responses to crisis that don't require the police, public health advocates pushing for free and equitable vaccine access across the globe, and Veterans for Peace. We also continued our ongoing trainings with anti-fascist and anti-racist organizers throughout the state.
In additions to trainings, we were also busy in court. Continuing over a decade of representation, Jeff Feuer and our MDC prepared a necessity defense and selective prosecution trial for an activist working to prevent the dumping of radioactive waste into Cape Cod Bay, only to have the case dismissed on the trial date when none of the prosecution witnesses were summonsed to be at the trial. The rest of our court cases focused on trying to resolve protestor cases quickly without a trial, and we had continued success getting cases dismissed outright, or resolved with very minor consequences. We represented anti-war activists who occupied the roof of Raytheon in Cambridge, students targeted for highlighting big pharma's profiting from public health crisis or fossil fuel investment, climate change activists, ongoing resistance actions related to climate and racial justice at the Governor's mansion in Swampscott, and people arrested resisting a fascist attack on a drag queen story hour at a local library. Thanks to robust volunteers and recruitment, we were able to activate our protest legal hotline on very short notice to support emergent protests and uprisings.
We continued our ongoing work with Families For Justice As Healing and the broader campaign to stop the construction of a new women's prison, Cosecha and the successful campaign for drivers licenses for all in Massachusetts, and of course our close connection to labor struggles, specifically the Starbucks union campaign that has been thriving and inspiring to organized and unorganized labor across the country. As happens with an uptick in resistance, we also saw repression, and our attorneys represented numerous people who were approached for questioning by federal agents.
The Mass Defense Committee also needs your help! We are constantly looking for legal workers and attorneys who can plug into the committee and be a part of our work supporting resistance and the movements for progressive change. Please come join us!