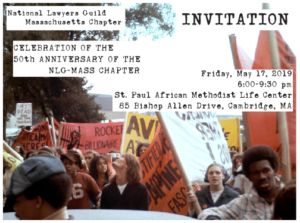 Massachusetts Chapter of the National Lawyers Guild
cordially invites you to the
Celebration of the 50th Anniversary
of the
NLG-Mass Chapter
and to the honoring of
Lynn Weissberg
RESERVE YOUR TICKETS/TABLES
Deadline is Friday, May 10th, 5:00pm.
all tickets reserved after the deadline are $145
PURCHASE A PROGRAM GREETING
Deadline is Monday, April 15th, 5:00pm.
BECOME A SPONSOR
Deadline is Monday, April 22nd, 5:00pm.
Click here for the PDF version of this invitation, as well as an RSVP form and a program greeting form.
And, as always, don't forget to share this event on Facebook!

---
Lynn Weissberg (Lifetime Achievement) has been a fierce advocate for social justice throughout her 40-year legal career. As a partner at Shapiro Weissberg & Garin, LLP, she has represented victims of discrimination and harassment. For over 35 years, she was a supervising attorney for the Tenant Advocacy Project, a clinical program at Harvard Law School. She is a founding member of the Massachusetts Employment Lawyers Association.
50 Years of the NLG-Massachusetts Chapter
From the ashes of the McCarthy-era chapter (which had been disbanded in 1953), the current iteration of the Mass Chapter of the NLG rose like a phoenix, spurred by opposition to the Vietnam War, the growing movement for women's rights, and the on-going struggle for civil rights and racial justice. Progressive lawyers came together in the fall of 1969 to incorporate the "Massachusetts Lawyers Guild" and establish an office at 70 Charles Street in Boston, which in 1971 was moved to 595 Massachusetts Ave. in Cambridge.
The reborn NLG Chapter included a cluster of law offices of new/young lawyers, the Women's Law Collective, and legal collectives/communes, as well as burgeoning chapters at local law schools. Members of the Chapter threw themselves into defending anti-war demonstrators and activists in the military, supporting the mounting struggles for tenants' rights, working to desegregate the Boston school system, closing the dungeon-like Charles St. jail (ironically, it is now the Liberty Hotel), and defending the activists at Attica and Wounded Knee.
The Chapter has grown from those roots planted in the late '60s as it continues to provide legal education, assistance, and representation to politi- cal activists in the struggles for equality, justice for the oppressed, and for a better world. Join us in celebrating our history and achievements as we, with- out compromises, continue to fight with the people, for the people!