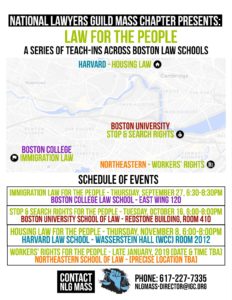 LAW FOR THE PEOPLE
The NLG-Mass Chapter is proud to present this six month long series of monthly teach-ins, hosted by local law schools and led by our very own Guild members. This series is open to law professionals, as well as the general public. Join us and learn about legal topics and your individual rights that are pertinent in today's political climate!
---
"Immigration Law for the People" – Thursday, September 27, 6:30-8:30pm
Boston College School of Law 
885 Centre St., Newton Center, East Wing Room 120
featuring Susan Church, Nancy Kelly, and John Willshire-Carrera
"Stop & Search Rights for the People" – Tuesday, October 16, 6:00-8:00pm
Boston University School of Law 
Redstone Building, Room 410
featuring Makis Antzoulatos and Erica Medina
"Housing Law for the People " – Thursday, November 8, 6:00-8:00pm
Harvard Law School 
Wasserstein Hall (WCC), Room 2012
featuring Jeff Feuer, Lee Goldstein, and Nadine Cohen
"Employment/Labor Law for the People" – Thursday, January 17, 6:00-8:00pm
Northeastern School of Law 
Room 220 Dockser
featuring Rachel Smit and Mark Stern
"NLG-Mass's Fight Against Cash Bail" – Wednesday, February 13, 2019, 5:30-7:30pm
UMass Dartmouth
(building/room TBA)
featured speakers TBA
---
Download the flyer here, and stay tuned for the Facebook events!